High-quality way of living a major draw card for residents, visitors
Chengdu, capital of Southwest China's Sichuan province, is enhancing its capabilities in commerce, arts and fashion, with a goal of being known around the globe for its quality lifestyle.
The first Monocle Cities Series Conference gets under way in Chengdu on Monday, organized by Monocle magazine from the United Kingdom. Over 150 professionals in fashion, architecture, design and retail worldwide will attend the event.
Chengdu covers an area of 14,600 square kilometers and has a population of more than 20 million people. It's a major center city in western China and a window to the world for opening-up.

From left: Runners pound the pavement during the recent 2019 Chengdu Marathon. Chengdu City Concert Hall, put into use at the end of 2018, is the largest concert hall in western China. Taikoo Li, a shopping area in Chengdu, features both traditional and modern architectural styles. Photos Provided to China Daily
Monocle's founder and chairman Tyler Brule will attend the conference in Chengdu. Other attendees include French company Lagardere Travel Retail Group, Dutch architectural firm MVRDV and UK-based hospitality property operator Ennismore.
The conference will be the first in a series where Monocle pairs up with cities and regions to explore key topics faced by mayors, city developers, investors and citizens.
"We'd like to hold the event in a place with high quality of life, much investment opportunity and diverse entertainment spaces," said a representative from the Monocle Asia-Pacific region, adding it expected to provide solutions for improving life quality, enhancing the charm of cities and promoting high-end consumption with related experts.
After investigating cities around the world, Monocle found Chengdu is a leader in 25 lifestyle sectors, such as fashion, art, commerce and life quality.
Chengdu is a modern metropolis with a long history, advanced economy, rich culture and good ecological environment, she said. "It's a melting pot in which people can not only smell the aroma of flowers and taste the spicy food, but also experience a quality life close to nature and open to more possibilities."
According to Monocle, youth today favor a sustainable and healthy lifestyle with a healthy work-life balance. Moving to Chengdu, which brings wealth and higher quality of life, has become a popular choice for many.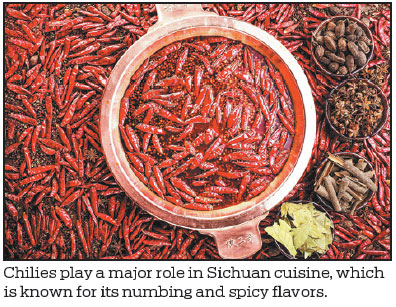 From the perspective of commerce, people in Chengdu are more willing to buy luxury goods, spend more time on lunch and go out until late at night.
During the National Day holiday in October, Chengdu recorded over 20 million visits to its many art and cultural exhibitions, performances and nightlife spots, affirming its high potential for consumption.
Located in a key position for Sino-European trade over land, Chengdu is also attracting companies to open headquarters in the city.
Data from the local government showed Chengdu's exports and imports grew by 18.6 percent from January to September to reach more than 415.61 billion yuan. The value of goods passing through the Chengdu Hi-Tech Comprehensive Bonded Zone has ranked No 1 nationwide for the past 18 months. The flow of capital reveals how the city has a leading role in international trade and investment.
Due to its dynamic economy and high-quality lifestyle, Chengdu has attracted the attention of many global media outlets, institutes and elites. Fortune magazine, the New York Times and the world's leading travel guide book publisher Lonely Planet have all recommended Chengdu at one time or another.
The Globalization and World Cities Research Network showed the city rose on the level of Beta+ to 71st place among world cities.
According to the annual Best-Performing Cities China report recently released by Milken Institute, a think tank in the United States, Chengdu surpassed Chinese tech center Shenzhen to become the best-performing city in terms of growth in employment, salary and per capita GDP.